A Weekend in Chefchaouen: The Perfect Moroccan Getaway
Jun 17
The vibrant and colourful city of Chefchaouen, nestled in the Rif Mountains of Morocco, is the perfect weekend getaway for anyone looking to escape the hustle and bustle of the busy city. Known as the Blue City, Chefchaouen is famous for its picturesque blue streets and rustic beauty. From the unique and delicious cuisine to the stunning waterfalls and shopping options, there is something for everyone in this charming town. Whether you're looking for adventure, relaxation, or simply a change of scenery, Chefchaouen is the perfect destination for a weekend getaway. Join us on a journey through this magical city with our ultimate travel guide.
Brief Overview of Chefchaouen as a tourist destination in Morocco
Chefchaouen, also known as the Blue City or the Blue Pearl of Morocco, is a picturesque town in the Rif Mountains northwest of Morocco. Chefchaouen is a popular destination and one of Morocco's best places to visit. The town is famous for its blue-washed streets and buildings, a photographer's paradise.
The origin of the town's blue colour is still a mystery. Still, one theory suggests that the Jews fleeing from the Spanish Inquisition in the 15th century who settled in Chefchaouen painted their houses blue. Whatever the reason, the locals still apply a fresh coat of blue paint twice a year, which keeps the town looking fresh and vibrant.
Chefchaouen's small size makes it an ideal destination for travellers who want to relax and enjoy the scenic beauty. Despite its popularity, the town remains peaceful and relaxed, making it perfect for those who want to escape the hustle and bustle of city life.
There are plenty of things to do in and around Chefchaouen, including getting lost in the maze of streets, exploring the local markets and learning about Chefchaouen's history at the Kasbah Museum. The panoramic view from the Spanish Mosque is not to be missed, and visiting one of the local hammams for a relaxing scrub is a must-try experience.
For those who love nature, hiking to the nearby Akchour waterfalls is a day trip worth taking. And if you want to experience some local nightlife, Chefchaouen has many options for you.
Overall, Chefchaouen is an ideal destination for those who want to relax, enjoy the beautiful scenery, escape the city, and immerse themselves in Morocco's unique culture. As one visitor expressed, "Chefchaouen is simply magical; it's like stepping into a fairytale!" [1][2]
Travel time and options for transportation
Travelling to Chefchaouen in Morocco may seem daunting, but getting there can be a breeze with a few valuable tips and tricks. Here are some facts to help make your trip a success:
- Chefchaouen has become a popular tourist destination, but it does not have an airport. So, the easiest way to get there is by ground transportation.
- The journey from Marrakech to Chefchaouen takes about 10 hours by overnight train to Tangier, followed by a taxi or a bus to Chefchaouen. It may seem long and tiring, but it's a safe and relatively cheap travel method.
- Flying into Morocco from other countries, there are two airport options to get to Chefchaouen: Tangier or Fez. Both airports are well-serviced by many international flights.
- A Fes to Chefchaouen day trip is an exciting and affordable way to visit this blue town. Though it can be a long journey, taking around four hours in each direction, it's doable.
- Public transit is the cheapest way to travel to Chefchaouen, with a short cafe break in the middle of the journey. Those who prefer private tours are also available, though they'll cost more.
- Taxis may be a quicker, more convenient way to travel, though bus schedules are limited, and you must pre-book if you decide to go this way.
When heading to Chefchaouen, planning ahead is critical, ensuring a hassle-free trip to the gorgeous blue Mediterranean town. So why wait? Book your trip today! [3][4]
Tip for those with walking difficulties
For those with walking difficulties, exploring Chefchaouen may pose some challenges due to the city being built on the side of a mountain. However, there are still ways to enjoy the town without missing out on the unique experience:
- Book a hotel outside the medina where you can have easier access to transport and less walking is required.
- Consider using a wheelchair or mobility scooter to navigate the steep and winding streets of the city.
- Take shorter walks downhill and stop at cafes or restaurants to rest when needed.
- Use taxis or private cars for transportation to avoid walking long distances.
As MarocMama advises, "It's worth noting if you have a small child in a stroller or someone with you that has walking difficulties, this is going to be a hard town to enjoy." Therefore, planning and considering these tips is important to ensure a comfortable and safe trip.
Additionally, MarocMama recommends visiting the Ras el Maa waterfall, which is accessible by car. This offers a beautiful view without requiring strenuous walking. She also suggests taking breaks to relax, and people watch, drink giant glasses of tea, and enjoy the delicious local cuisine.
In Chefchaouen, a mix of hotels and riads is available, making it easier to find accommodation that suits your needs. It's advisable to book in advance and communicate any special needs or requirements with the hotel to ensure a pleasant stay.
Overall, while Chefchaouen may pose some challenges for those with walking difficulties, with proper planning and preparation, it is still possible to enjoy this Moroccan gem's unique charm and beauty. [5][6]
Description of the town's blue buildings and unique charm
Chefchaouen's most distinctive feature is its blue buildings, which give it a unique charm. The shades of blue are dazzling and bewitching, with different hues and shades prevailing throughout the city. As you walk through the tightly packed medina, you'll feel like you've entered another world where every building is painted in beautiful blue tones. The streets are narrow and winding, but every turn is a photo opportunity. Lonely Planet's quote perfectly describes it: "Stumbling across Chefchaouen's blue-washed Medina feels like entering a dream world."
The blue colour of Chefchaouen's buildings has several theories to explain its origins. Some say the colour was used to ward off mosquitoes, while others say it was a tradition of Jewish immigrants. However, according to Travel + Leisure, "Chefchaouen's blue buildings were reportedly painted by refugees in the 1930s as a symbol of Judaism, reflecting the blue colour typically associated with the religion." Regardless of the origins, the town's blue buildings have become a trademark and a defining characteristic of Chefchaouen.
The blue buildings aren't the only charming feature of Chefchaouen. The town is known for its laid-back vibe, friendly locals, and delicious Moroccan cuisine. As you wander through the medina and surrounding areas, you'll come across cafes serving fresh mint tea, small shops selling traditional crafts, and restaurants offering a range of Moroccan dishes. Every night, the city's vibrant nightlife comes to life, and visitors can enjoy the lively atmosphere while smoking hashish with the locals, who sell it openly on the streets.
Chefchaouen's blue buildings and unique charm make it a magical destination. The town's blue tones captivate visitors, and the relaxed atmosphere and delicious food keep them returning. It's no wonder that Chefchaouen has become a must-visit destination in Morocco. [7][8]
Opportunities for photography
Chefchaouen, famously known as the Blue Pearl of Morocco, is a haven for photography enthusiasts. The blue alleys and buildings offer a unique backdrop for stunning photographs. With its picturesque charm, Chaouen has become a favourite destination for Instagram influencers and bloggers worldwide. Here are some opportunities for photography in Chefchaouen:
- El Asri Street: Located on the north side of the town, this street is a popular spot for visitors to take stunning photos. It gets crowded early, so visiting at sunrise is best to avoid the crowds. One satisfied visitor noted, "If you're on a day trip, you'd have to wait in line to get your photo there."
- The Blue Street: Just a few minutes away from Callejon El Asri, this alley, with its charming blue walls, is a must-visit spot for photography. A visitor described it as "the bluest street in the bluest city."
- The Spanish Mosque: A hike to the Spanish Mosque is rewarding, as it offers a spectacular view of the city from above. This spot is perfect for capturing panoramic photos of Chefchaouen. A visitor said, "We caught the sunset at the Spanish mosque before we left, and the view was breathtaking!"
- The Waterfall of Ras El Maa: The waterfall is a natural beauty that provides a stunning backdrop for photographers. Visitors can take beautiful shots of the waterfall and the surrounding mountains. One visitor said, "The nature is breathtaking in this area."
Exploring Chefchaouen is incomplete without capturing its unique aesthetic through the lens of a camera. Whether you're a professional photographer or just starting, Chefchaouen offers endless opportunities for capturing stunning photos. It's no wonder a satisfied visitor stated, "Oussama [the guide] was incredibly professional, friendly, and made our experience great." So, don't forget to pack your camera and capture the beauty of Chefchaouen. [9][10]
Experience with Moroccan cuisine and unique food finds in Chefchaouen
Chefchaouen may be known for its blue buildings, but it's also a haven for foodies who crave the unique flavours of Moroccan cuisine. This town has something for every palate, from savoury tagines to sweet pastries.
One standout dish is the Ras El Hanout tagine, a savoury blend of spices that includes cinnamon, ginger, turmeric, and cumin. It's cooked with chicken or lamb and vegetables like zucchini, carrots, and onions. As one traveller described, "The flavours all meld together into a rich and complex sauce that makes you want to lick your plate clean!"
Another must-try dish is the traditional Moroccan dish, B'stilla. This savoury dish has layers of phyllo dough, pigeon meat, almonds, and spices, topped with powdered sugar and cinnamon. Combining sweet and savoury flavours is a true treat for the taste buds.
For those with a sweet tooth, the town's patisseries and cafes are a haven for indulging. One traveller recommends trying the almond-filled pastries, saying, "The secret is in the almond paste. It's rich and nutty and melts in your mouth."
Of course, a trip to Morocco isn't complete without trying the ubiquitous mint tea. In Chefchaouen, the tea comes in giant glasses, making it the perfect accompaniment to a pastry or savoury dish.
Chefchaouen's cuisine is as unique and vibrant as the town itself. As one traveller put it, "The food is a true reflection of the culture and history of Morocco, and each dish tells a story." So be sure to bring your appetite when visiting this beautiful blue town! [11][12]
Open use and sale of hashish in the town
Chefchaouen, a small city in northern Morocco known for its charming blue-washed buildings, quaint narrow lanes, and unique culinary tastes, is also a hub of the hash-producing industry. The city has become increasingly popular among tourists, particularly backpackers, seeking to indulge in the local hash culture. The thriving local hash industry is no secret and is prevalent in the town. As a result, the hash is readily available for purchase, and it's not challenging to find weed-related products in this town.
One journalist describes his experience in Chefchaouen: "Weed we bought almost instantly and very easily when we arrived. If you smoke weed and can't score in Chefchaouen, you're probably smoking far too much weed." He adds that locals, particularly the Berbers who inhabit the region professionally, accost tourists with offers of hash, kif, girls, opium, etc. But while hashish may be openly available for sale throughout Chefchaouen, it is technically still illegal, which means purchasing it puts you at risk of potential consequences.
Efforts are underway to legalize cannabis production in the region, with some parliament members arguing that the move could help the local economy, reduce the significant police presence, and benefit those who directly rely on the cannabis industry as an income source. Nevertheless, until that happens, it's best to exercise caution should you choose to indulge. Whatever your stance, if you visit Chefchaouen, you'll be surrounded by people who love the town and its hash culture. As one traveller advised, "Just be sure to stay safe, keep your wits about you, and enjoy everything this unique town offers." [13][14]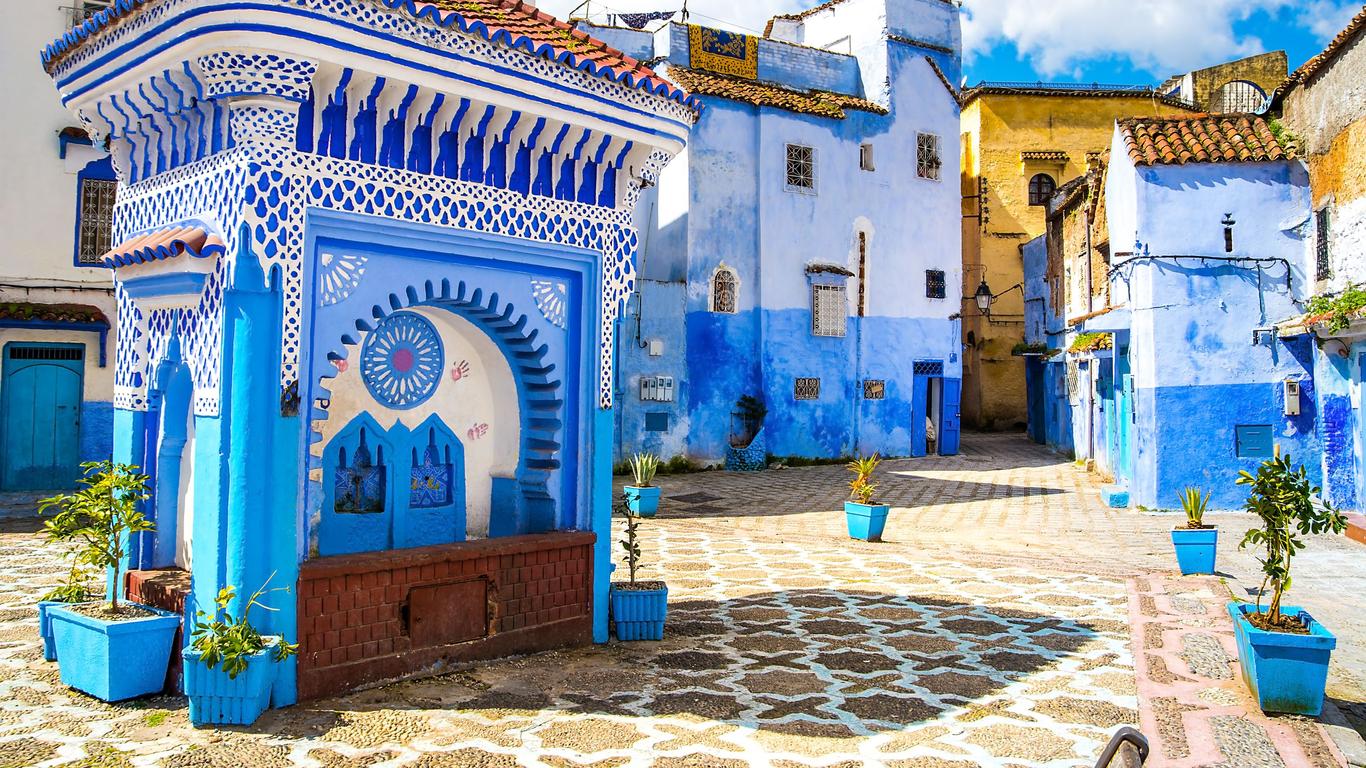 Availability of hotels and riads in the small city
Chefchaouen may be small, but it does not lack in accommodation options. The town has many hotels and riads, each offering its unique charm and experience. Whether on a tight budget or looking for luxury, there is something for everyone. Here are some options for you to consider:
- Dar Dadicilef: Built in the 16th century, this charming property boasts a garden terrace, BBQ facilities, and free WiFi. It is just 300 metres from Kasba and 200 metres from Outa El Hammam Square.
- Hicham: This property is in the town centre, just 200 metres from Kasba and Outa El Hammam Square. It offers free WiFi throughout the property and a restaurant. "We booked that Hotel in Chefchouen for our customers. They loved it, and the price was ok. So I recommend this Hotel for anyone wanna stay in Chefchouen," says one satisfied guest.
- Bab Mahruk: Situated in the Old Town district of Chefchaouen, this property features a terrace, non-smoking rooms, and free WiFi. It is located near the centre of the tourist market.
- Dar El Fanne: This property offers shared lounge areas, non-smoking rooms, and free WiFi. Some units offer city views, and the rooms have a private bathrooms. One guest raves, "Najat was great! She would take care of us and ensure everything was good. She is great with all her clients!".
- Dar Rass El Maa: This property features concierge services, non-smoking rooms, a garden, free WiFi, and a shared lounge. It is located just 700 metres from Kasba and offers room service. "The location is perfect for exploring the town. The staff was extremely kind, and the room was comfortable, with a nice terrace with a beautiful view. The place is highly recommended," says a satisfied guest.
There are plenty of hotels and riads to choose from in Chefchaouen, but it's worth noting that most are built on a hill with narrow streets. If you have difficulty walking, it's recommended to stay centrally located in the centre of town. "The location is great, the hotel is very clean and comfortable, and breakfast is available," says one happy guest at HOTEL PEDRO. Overall, Chefchaouen offers a variety of accommodations to suit any budget or preference, making it the perfect Moroccan getaway. [15][16]
Recommendations for those with walking difficulties
If you have walking difficulties, exploring Chefchaouen may seem daunting, but don't let that discourage you! There are still plenty of ways to enjoy the Blue Pearl of Morocco. Here are some recommendations to keep in mind:
- Stay in a hotel or riad close to the main square: This will make exploring the heart of Chefchaouen easy without walking too far.
- Take breaks often: Chefchaouen has plenty of cafes and restaurants where you can sit, rest, and take in the surroundings.
- Use walking aids: If you have a cane or walker, bring it with you. It will make navigating the town's steep and uneven streets much easier.
- Consider hiring a local guide: A guide can help you navigate the town and take you to the best spots without walking too much.
- Take a taxi to the top of the hill: If you want to see the Spanish Mosque but don't want to tackle the steep hill, take a taxi!
- Enjoy the views from a rooftop: Many hotels and cafes in Chefchaouen have rooftop terraces where you can sit and enjoy the stunning views without walking around.
Remember, even if you have walking difficulties, you can still enjoy the beauty and charm of Chefchaouen. Just take your time, pace yourself, and rest when you need to. [17][18]